Online, 29/06/2020 - 3/07/2020.
NEANIAS was presented at the EAS 2020, the European Astronomical Society Annual Meeting. The EAS meeting is the largest conference for European astronomy, with more than 25 years of tradition.
This event represents a unique meeting point for students and experts from very diverse fields, allowing for the exchange of groundbreaking results, valuable expertise and innovative ideas.
Initially planned to be held in Leiden (Netherlands), the COVID-19 outbreak forced the organization to set up a virtual event for the first time. But, despite the adversities, it was a total success, with more than 1700 participants, lots of thematic sessions, and even a dedicated Slack workspace for hand-to-hand discussion with the speakers. We enjoyed a fantastic week full of science, interesting talks and exciting results.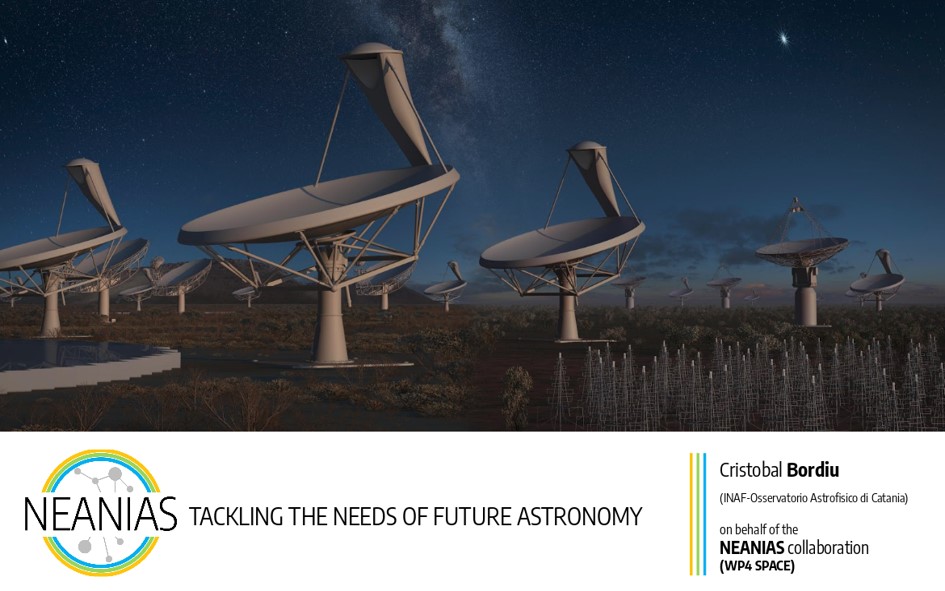 There were a total 15 parallel symposia, each one focusing on the current issues of specific astronomy fields (from gravitational waves to planetary atmospheres), in addition to 30 special sessions dedicated to other topics of interest. In particular, Special Session 8 – "Machine learning and visualization: bracing for data deluge in astronomy" was designed to discuss new trends in data processing and visualization techniques, in order to prepare for the upcoming revolution: the advent of new generation all-sky survey facilities, such as SKA, LSST and JWST, and their expected impact on the way of working of astronomers all around the world.
Therefore, this session emerged as the ideal stage to introduce NEANIAS services to the astrophysics community. In a presentation entitled 'NEANIAS – Tackling the needs of future astronomy', we provided an overview of the NEANIAS project, its Open Science spirit and its catalogue of services for astrophysics and planetary science.  We briefly showcased our available services for data management and visualization of large datasets, such as ViaLactea Visual Analytics, Planet Server and ADAM; for large scale-mosaicking and map-making, such as Scutout and USGS-ISIS; and for source extraction, characterization and classification with Machine Learning techniques, such as CAESAR.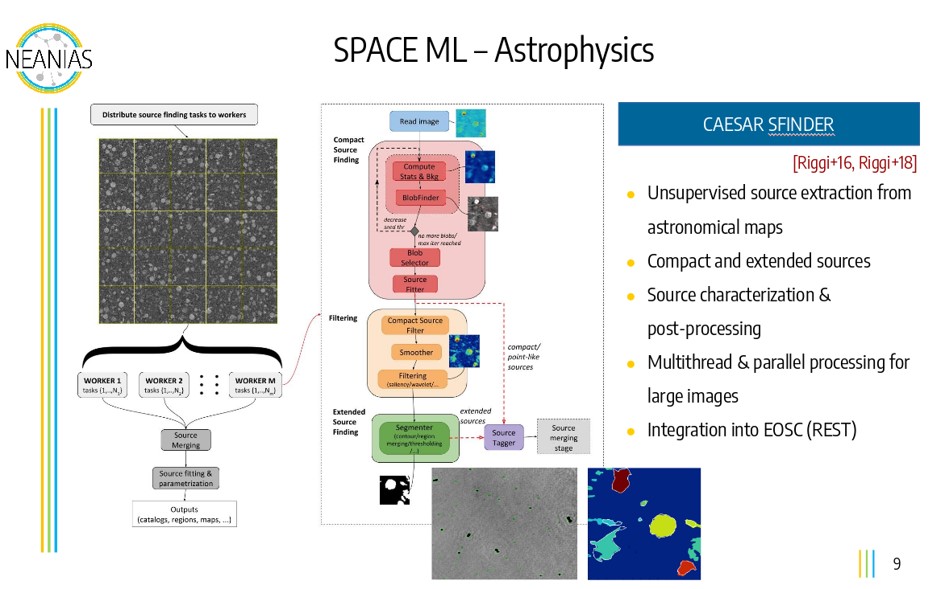 We received very positive feedback from the attendees, who showed a great deal of interest on the project and even provided some interesting suggestions worth to be considered. The research community is aware that a paradigm shift is just around the corner, and that machine learning will play a key role if we want to adapt ourselves and survive the upcoming data deluge.
We had literally no time to dive into the details of the project, so we promised to be back next year. The first release of NEANIAS services is scheduled by the end of 2020, so we hope to –physically– attend EAS 2021 and showcase fully-working services and exciting scientific results.
NEANIAS was represented by C. Bordiu, F. Bufano and E. Sciacca (INAF). Congratulations for your great work!
Discover more ar EAS2020.