Online, 03/06/2021.
The oceans, seas, and coasts are home to diverse marine ecosystems. They provide a wealth of resources, influence climate, and offer many economic opportunities. Marine ecosystems are sensitive to long-term global change and combinations of multiple local pressures can affect ecosystems in unpredictable ways.
More understanding of natural dynamics and effects is needed to enable sustainable use and conservation of these ecosystems. Given the range of threats, and the relative lack of knowledge about marine ecosystems, the United Nations (UN) has declared the next decade (2021-2030) the "United Nations Decade of Ocean Science for Sustainable Development".
States all across the world deploy monitoring programmes at national and regional level to support national marine governance goals, several regional policies, and the growing demands for sustainable use of resources. Research institutes operate research vessels and many other platforms and instruments for gathering in-situ observation data on a global scale. Their data is mostly used for scientific research, but also complements the data acquired by States through monitoring activities, gathering long time series. In addition, marine data are also collected by private organisations in support of economic activities. Increasingly marine and ocean data and information is also derived from Earth Observation (EO). Space technologies, infrastructure, services and data nowadays provide also important input for addressing societal challenges and big global concerns.
The event was organised by Blue-Cloud, a project with which NEANIAS collaborates. The Blue- Cloud Project team offered a workshop whose objective was to provide an arena to debate about EU and international initiatives working to harmonize and facilitate data sharing across the Atlantic, and provide demonstrations of available tools, training, and the latest open science 'blue cloud' technologies to make data findable, accessible, interoperable, and reusable.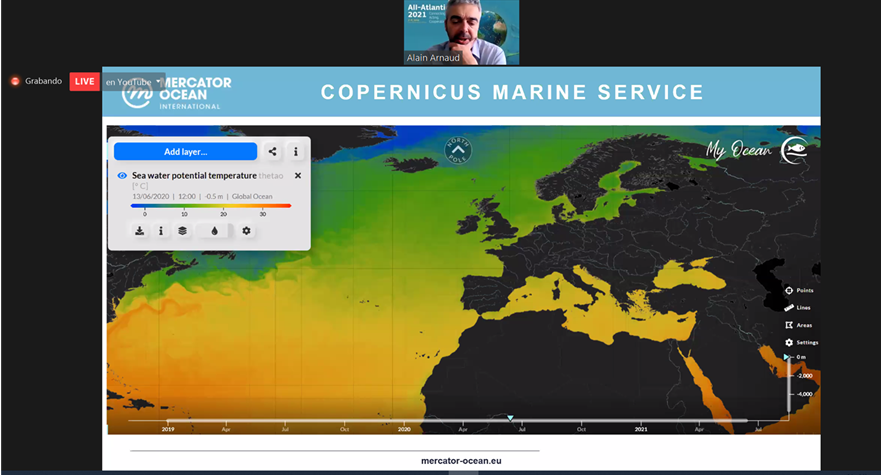 Experts from different countries bordering the Atlantic, such as Brazil or South Africa, participated in this workshop. Members of the NEANIAS Project team attended this interesting workshop; for more additional information you can visit the event site.