Online, 16/07/2020.
On 16/07/2020, the NEANIAS Space services for the Astrophysics community was presented at the Computing Conference 2020 by Eva Sciacca and her team (INAF). The conference is a premier venue for researchers and industry practitioners to share new ideas, research results and development experiences in the area of computer science.

In light of the COVID-19 pandemic, Computing Conference 2020, initially planned in London (UK), has been moved to a fully virtual conference. This was experienced for the first time but all participants (about 200, coming from 47 different countries) enjoyed the same great educational sessions and networking opportunities as part of the virtual event that included 20 parallel sessions, 2 poster sessions and 4 keynotes talk (the first one given by Vint Cerf, the vice president and Chief Internet Evangelist for Google!).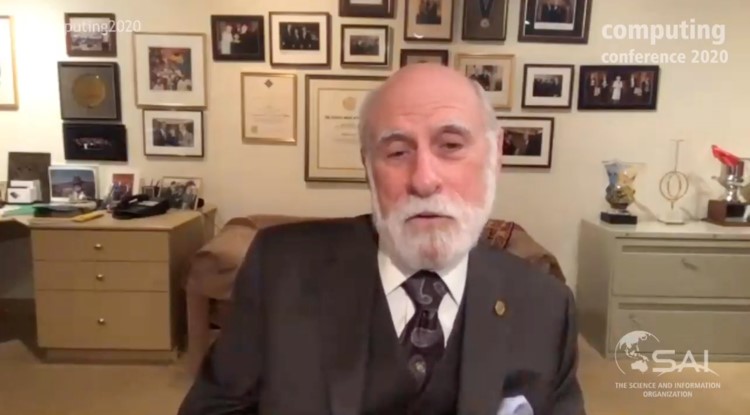 During the first poster session the work entitled "Towards porting Astrophysics Visual Analytics Services in the European Open Science Cloud" has been presented.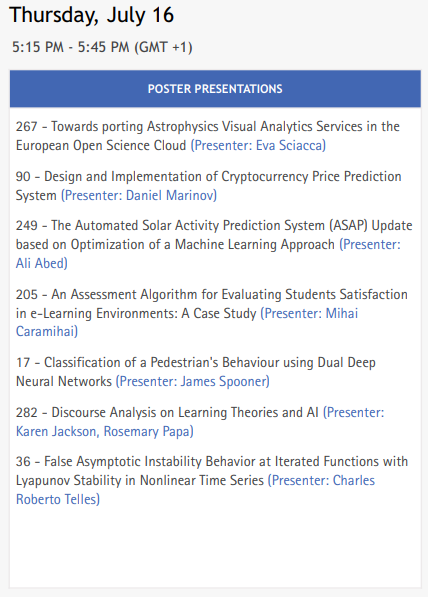 The talk was focused on the ongoing activities related to the implementation of visual analytics services, integrated in EOSC, towards addressing the diverse astrophysics user communities needs for data management, mapping and structure detection.
The preliminary demonstration implementation developed within the H2020 EOSCPilot project has been showcased and the forthcoming activities being developed within the NEANIAS project have been presented, projecting tailored services for FAIR data management and visualization, multidimensional map creation and mosaicking, and machine learning-supported automated source detection in multidimensional maps.
The work has been published in the Proceedings of the Computing Conference 2020 online:
Sciacca E. et al. (2020) "Towards Porting Astrophysics Visual Analytics Services in the European Open Science Cloud". In: Arai K., Kapoor S., Bhatia R. (eds) Intelligent Computing. SAI 2020. Advances in Intelligent Systems and Computing, vol 1230. Springer, Cham. https://doi.org/10.1007/978-3-030-52243-8_43.
We look forward to update the progresses of the NEANIAS Space services in forthcoming prominent conferences like the Computing Conference series.
More information on Computing Conference 2020 website.