Athens & online, 8/05 - 5/06/2020.
CopHackOn 2020 Demo Day was completed, and we are excited to announce the winners of Copernicus Online Hackathon.
1st Place SeaTrip
2nd Place Covid6gang
3rd Place UoP - University of Patras
Congratulations to all the teams for your great work and commitment through this 4 weeks long period!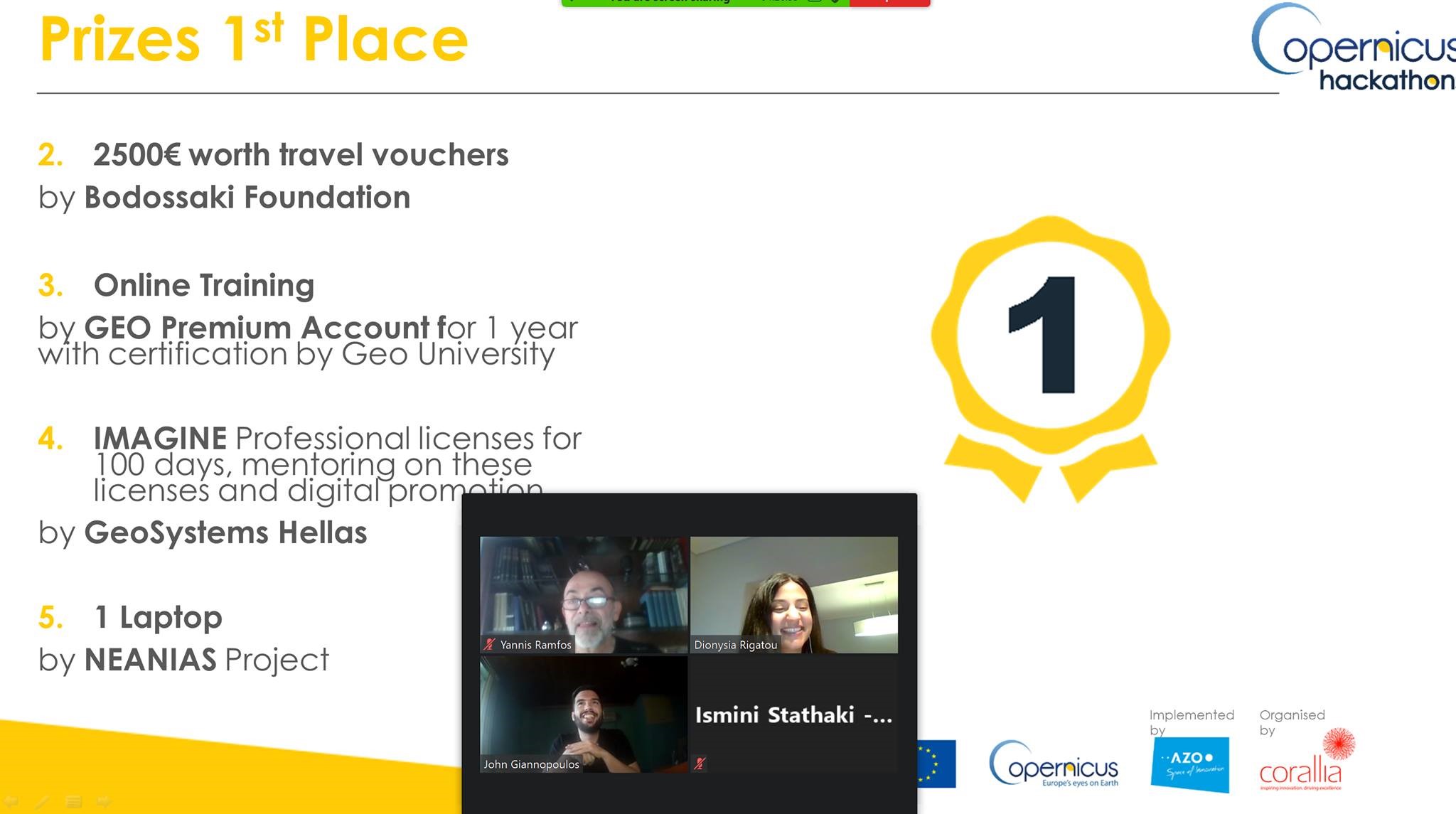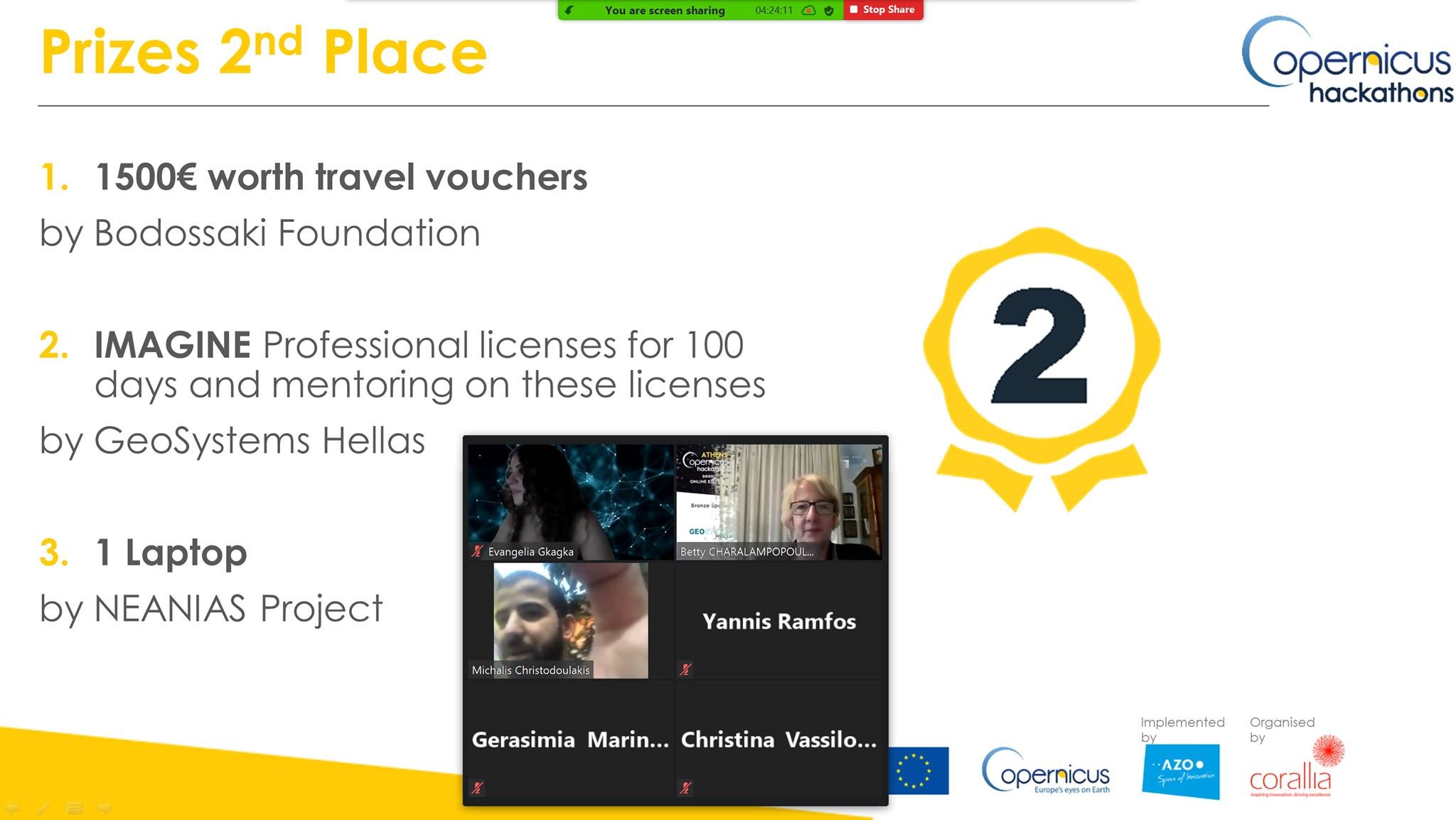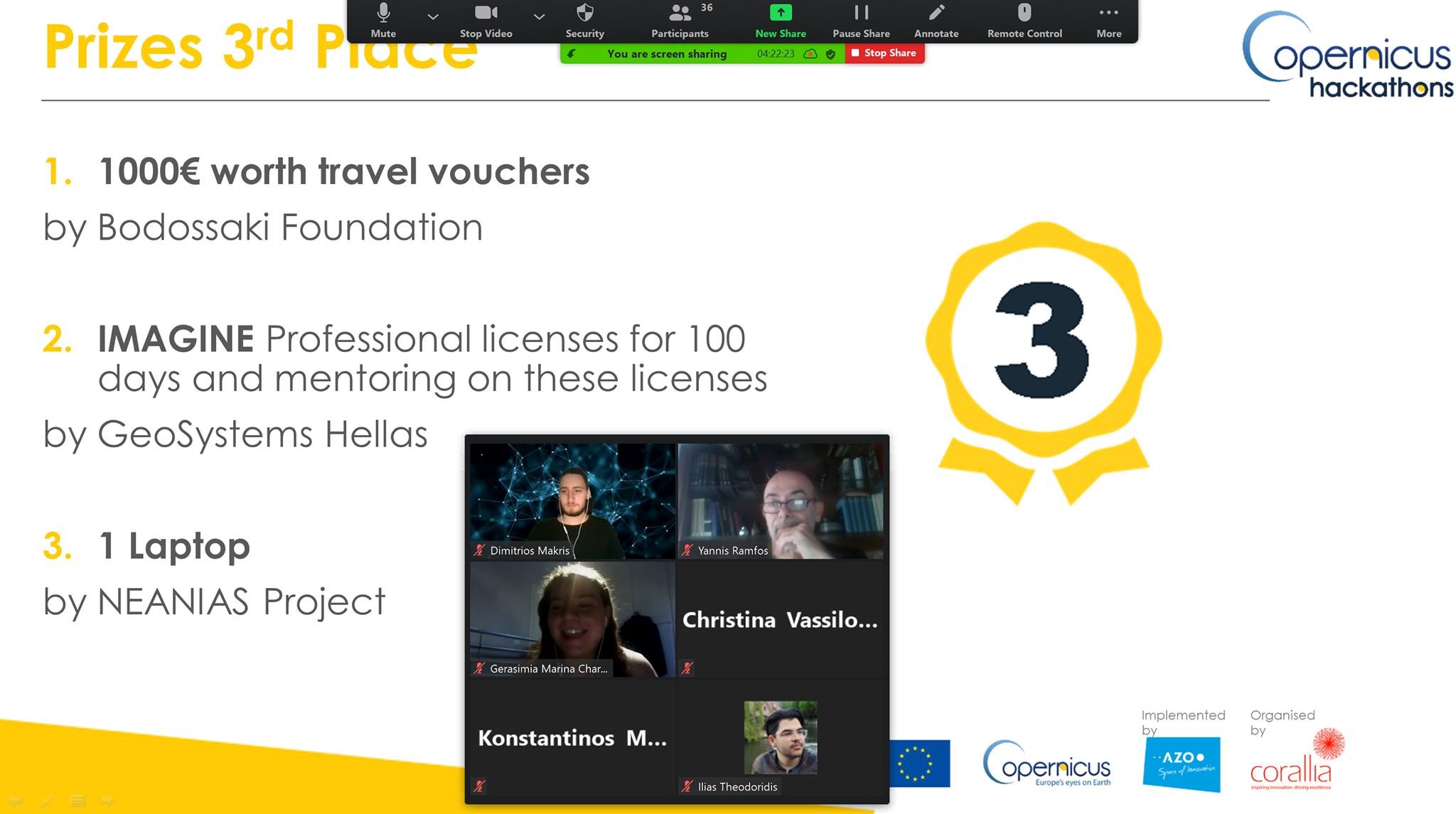 15 teams have participated in this event that has been held online from Friday, May 8, 2020 2:00 PM to - Friday, June 5, 2020, and outstanding work has been done.
The Copernicus Hackathon in Athens is part of the European Union's Copernicus Hackathon Programme and Copernicus Start-up Programme. The Copernicus Hackathon Programme is implemented by Anwendungszentrum GmbH Oberpfaffenhofen (AZO) on behalf of the European Commission.

The Copernicus Hackathon in Athens is organised by Corallia, the innovation unit of the Athena Research and Innovation Center in Information Communication & Knowledge Technologies, with the support of NEANIAS Project and in collaboration with the Greek Space Technologies and Applications Cluster (si-Cluster), the Hellenic Association of Space Industries (HASI), Space Innovation (SPIN), and the Greek Copernicus Relay Network and the Greek Copernicus Academy Network. The organization is under the Auspices of the Ministry of Digital Governance of the Hellenic Republic, and is scientifically supported by prominent industry stakeholders, academic and research institutes all over Greece.
A large number of companies is sponsoring and supporting the Copernicus Hackathon in Athens: Bodossaki Foundation, Eurobank & the egg,  Planetek Hellas, EFA Group, Geospatial Enabling Technologies, GeoSystems Hellas, GEO University and more to be announced. Last but not least a great number of Community Partners are helping to spread the word for the event: the egg, Mindspace, IEEE NTUA Branch, Chemecon, GRSS Chapter IEEE, IEEE AUTH Branch, Greek NewSpace Society, Aristotle Space & Aeronautics Team, Prometheus Eco Racing, BEST Athens, GeoTopo, AEGEE Thessaloniki, EESTEC LC Athens, EESTEC LC Thessaloniki, BEAM Thessaloniki, IEEE Computer Society.
You can follow the Copernicus Hackathon across Europe on hackathons.copernicus.eu.
June 2020.